Avoid Burnt Feet This Summer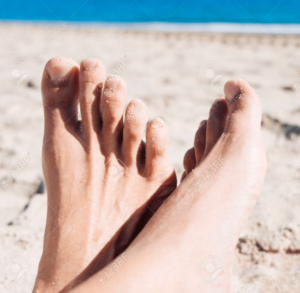 Summertime is the season where people will go barefoot. There's no other feeling like walking on soft grass or dipping your feet in the refreshing water in a pool to cool off. However, while you have your shoes off you might also step on hot pavement or sand which isn't as refreshing. This might not only hurt but can actually result in 3rd degree burns on the soles of you feet. Although, these burns are usually minor, they can result in some discomfort when walking as your feet can be sensitive to the touch.
If you get a minor burn on the bottoms of you feet this Summer, here are some simple and natural ways to sooth the discomfort.
Aloe Vera
Just as it's used for sunburns on the body, it can be used for sunburns on the feet. Try chilling it in the fridge for some extra cooling effect
Tea Tree and Lavender Oil
Prepare a foot soak with cool water and add about 5 drops of either lavender or tea tree oil for a soothing healing treat.
Try to Stay Off Your Feet
The more you walk, the longer your feet will take to heal. Try to put your feet up and relax and they will heal quicker
Wear Shoes with Cushioning for Comfort
While your feet are healing, try to wear shoes with a bit of cushioning in the insole. The last thing you want is for the bottoms of your feet to be against a hard surface. If you have custom orthotics, that would be even better.
Always Wear Shoes
This one should be obvious and will be helpful in preventing any burns to the soles of your feet in the future.