Best Indoor Slippers For Your Feet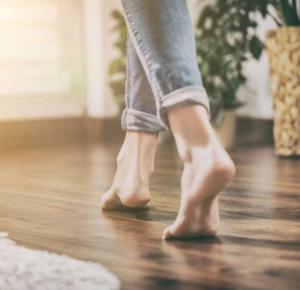 Now that more people are working from home we are now NOT wearing shoes for most of the day. It's probably something most people haven't thought of but shoes provide support for our feet and without them some problems may arise. This is especially true if you live in a home with hard floors. It's best to provide some support with some indoor slippers.
Before you go grab your fluffy, squishy slippers or flat slides consider what kind of support your foot needs. On the other hand, you don't want a slipper with so much support that your foot muscles weaken. You definitely want to avoid heel straps because you want your foot to grab the surface of the floor to keep it strong. If someone has existing foot problems it's probably a good idea to wear something with support, even with socks, in the home at all times. Only people with no existing foot conditions can go barefoot but even that isn't recommended for extended use and especially on hard floors. For most people wearing the right type of slipper will probably good protection and support.
If you are prone to foot issues it's best to avoid backless styles or slides because they don't wrap around the foot and can lead to potential foot issues. Also, make sure your slipper fits correctly. Do not wear too large slippers as the toe gripping at the ball of the foot to secure the shoe can lead to plantar fasciitis.
When looking for a slipper, look for styles that provide support and are made with breathable materials. Something with an orthotic footbed with arch support, deep heel and ball cushion is a major plus. For safety an anti-slip rubber sole is a bonus. These features will keep your feet comfortable while being well supported.