How to Select The Best Winter Boots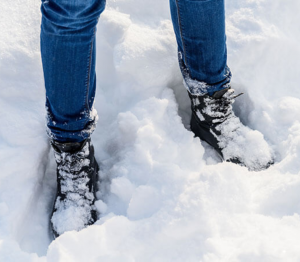 Winter is now upon us and it's time to get out that cold weather footwear. Choosing a Winter boot goes beyond fashion. Winter boots are used for protection more than other footwear in any other season. There are many features to choose from and which Winter boot best suits you will depend largely on your intended use. However, there are some features of Winter boots that will apply to most wearers.
Here are some tips to consider when choosing a Winter book. Keep them in mind when you go shopping and you will be ensured to find the best Winter boot for you.
Bring Your Socks to Try With Boots

You might be wearing thicker socks in the Winter and if you do make sure you bring them when you go shopping. A thicker sock can considerably change the boot size and wearing a too tight Winter boot can cut off your circulation and actually lead to colder feeling feet. Always make sure you have enough room to wiggle your toes around. If you plan to do a lot of walking, don't pick a Winter boot that is too loose fitting as it will end up sliding around and rubbing your foot uncomfortably. This constant sliding motion can lead to painful blisters.
Boot Insulation + Waterproofing = Warm + Dry Feet

This is the ultimate combination of features for a warm dry foot this Winter. Make sure the outside of the Winter boot is completely waterproof. This is because water conducts temperature faster than air does so if a boot is wet and cold you can be sure your feet will be. However, ensure that the inside of the Winter boot is lined with a soft, insulating material in order to trap heat inside. The soft lining also makes walking that much more comfortable
Waterproofing can be accomplished one of 2 ways. The first way is that the exterior of the Winter boot may be made of a waterproof or water resistant material, such as a treated leather or rubber. The second way is that the Winter boot has a waterproof membrane sewn into the interior lining. For ultimate waterproofing look for Winter boots that have both of these features. Also, be sure the seams are tightly sewn as sometimes water and seep through the cracks leading to a wet, and cold, foot.
Boot Lacing and Fit
What kind of lacing you choose will depend on your intended use of the Winter boot. If you require a closer fit then laces might be the way to go as you can pull them tighter to your legs. If you are going to be wearing the boots for long periods with lots of motion, such as for hiking or snowshoeing, it would be better to get a laced boot. However, laces are also more time and labour intensive to put on. If you are just shovelling the sidewalk you probably won't need anything too closely fitted unless you don't mind the extra time required to lace up laces
Boot Weight
There can be a big variance in weight of Winter boots ranging up to a few lbs. This weight difference may not seem like a big issue at first but if you are using your Winter boots for hiking or plan to spend a whole day in them selecting a lighter pair will probably be a smarter choice. After taking hundreds of steps the few ounces difference in weight can feel like a tonne.
We hope these tips will keep your feet dry and warm this Winter. If you need help with custom orthotics or shoe fitting, please contact us.